Imagine a mouth watering, no hassle, economical way to feed a large number of guests, and you are imagining a Hog Roast! Ideal for parties, weddings, fetes or corporate occasions our hog roasts are a great way to provide your guests with good quality tasty food at a reasonable cost.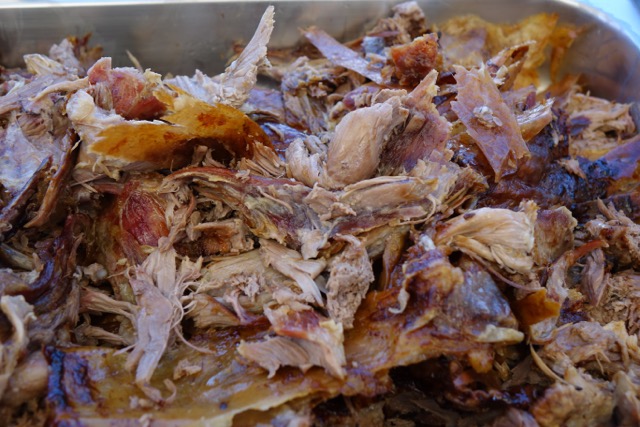 Users of the renowned Spitting Pig roasting equipment, we are a family run company based in Berkshire, very close to Reading and Wokingham.
All meat roasted by Arborfield Hog Roasts is sourced locally and can be traced back to the farm where it was raised.
A standard size hog will feed 80-100 people and takes a minimum of 7 hours to slow roast, depending on its size. This leaves you with melt in the mouth meat and some seriously crunchy crackling.   Our pigs are always cooked from fresh and are never pre-cooked or reheated. They are cooked purely in their own juices, without any added ingredients, and are accompanied by fresh bread rolls from our local baker, apple sauce, stuffing and napkins.
Roasting without adding any further ingredients means that our meat is also suitable for those guests who may eat a gluten free diet. We are able to supply gluten free stuffing and gluten and dairy free rolls to accompany the meat. Ensuring your guests with a food intolerance do not need to feel left out.
Should you be catering for less people we can also offer a lamb roast. Again cooked in its own juices and served with rolls and mint sauce it is an ideal alternative to a hog roast for smaller events.
We are also able to provide a range of salads to accompany your meat option if required, click here to see full details on our salads page.
We bring our own serving tables, gazebos and equipment to your venue. We will set up, cook and serve your roast, leaving you to enjoy your event.
Once carved and served, we clear away our equipment leaving you with very little clearing up.
Please contact us on 0118 3241177 or 07950 753088 to discuss your requirements.
Alternatively please email us at: info@arborfieldhogroasts.co.uk or complete our contact form below and we will get back to you as soon as possible.
We will need to know the date of your event, location and approximate numbers of people to be catered for
A complete Hog Roast served in a roll with accompaniments is from £600.00.
Following our inspection we are very pleased to announce that we have been awarded a 5 star rating for our food hygiene standards by our Local Authority.

The Food Hygiene Rating Scheme (FHRS) in England, Wales and Northern Ireland helps consumers choose where to eat out or shop for food by giving them information about the hygiene standards in restaurants, takeaways and food shops.